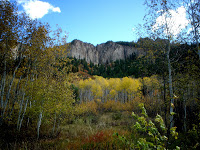 Just a mile off Highway 133, along the West Elk Loop on Colorado's western slope, Paonia IS what most of America once WAS, a small town with friendly people and a simpler way of living. It was founded in the early 1880s by a fruit farmer; since then it has come to include coal miners, organic farmers, early retirees and a growing number of musicians, artists, crafts people and developers of alternative energy.
Paonia's setting beneath 11,400 foot Mount Lamborn is nothing short of spectacular. Behind the mountain lies the West Elk Wilderness, which offers great hiking, biking and horseback riding. The valley in front of the mountain is dotted with orchards, cattle ranches, horse pastures and a bevy of vineyards and wineries. These businesses offer wine tasting and an array of products made from apples, cherries, peaches, nectarines and grapes, that can be found locally.
The town also boasts a handful of restaurants, a movie theater, a small airport and our town park with a gazebo stage that serves as a beautiful venue for festivals and weddings. We invite you to visit Paonia, where you'll find a the small-town West, alive and still pleasantly quirky.