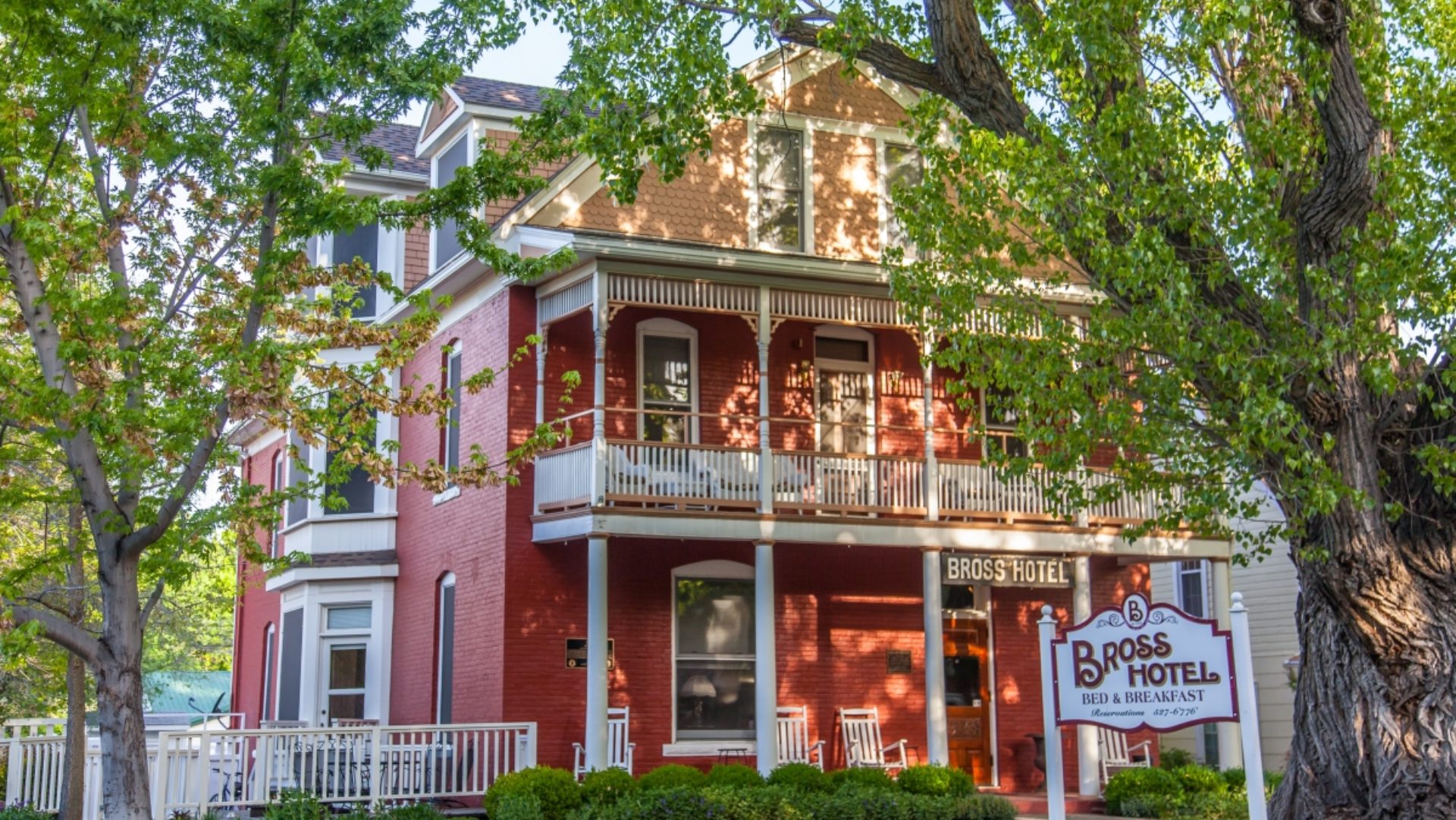 Sit Back & Relax
CHARMING, TASTEFULLY UPDATED ACCOMMODATIONS IN A LANDMARK TURN-OF-THE-CENTURY BUILDING
Established in Paonia in 1906, the Bross Hotel Bed & Breakfast is a beautiful historic Inn on Colorado's stunning western slope. Its graceful early 20th-century architecture, second story balcony, and rocking chairs on the front porch invite guests to enjoy the shade of the large cottonwood trees in the front yard.
Beyond the entry parlor is the sun-filled dining room with its large bay window and elegant antique back bar.  Upstairs, all 10 guest rooms feature private baths, comfortable bedding, unique furnishings, and wireless 5G internet.  An outdoor hot tub invites you to soak under the Valley's legendary night skies.
Innkeepers Suzanne Tripp and Mike Yengling bring the perfect skillset to the hotel.  Suzanne is a historical architect by training with a background in baking and a lifelong love of cooking. Mike has a background in historic preservation and brings a jack-of-all-trades mentality and loves to pass on local knowledge, be it a hike, bike ride, scenic attraction, or offbeat culinary find.
The Bross is located just one block from Paonia's main business street, Grand Avenue, which allows guests to walk to entertainment venues, shopping, theater, and restaurants.
IN BEAUTIFUL PAONIA
IN BEAUTIFUL PAONIA
IN BEAUTIFUL PAONIA
IN BEAUTIFUL PAONIA
IN BEAUTIFUL PAONIA
Enjoy the abundance of the North Fork Valley, delicious gourmet breakfasts, and the hospitality of Innkeepers Mike & Suzanne. We look forward to your stay!
What our guests have to say...
Can't recommend this place and its hosts highly enough!! Suzanne and Mike are genuinely very hospitable, interesting and skilled as cooks and hosts. We can't recommend this place enough – you'll be in very good hands..they know the town so well as well as the surrounding area.. we relaxed completely while there. And yes the breakfasts are world class and always different every day.
~ Ellen K.

Bross Hotel B&B has officially raised my B&B standards and expectations because this was the most wonderful experience I have ever had. Amazing and sincere staff and the highlight has to be the chef breakfast every morning. You MUST stay here!
~ Jessica
Perfect. The Bross is perfect in every way – beautiful rooms, great hosts and delicious breakfasts. A short trip over the mountains for us but a world away! Ideal location for walking to the businesses on the main street or over to the wonderful park.
~ Mark S.

Oh. My. Gosh. This place is amazing! The owners have thought of everything! The rooms are beautifully appointed, clean and comfortable. The sheets are heavenly! But the food! The food alone is worth the visit… we had pancakes with blueberry compote and lemon curd. So good! Suzanne and Mike are accommodating, helpful and pleasant. All of this is surprisingly affordable. If you're looking for a lovely getaway, this is the place.
~ Nancy